From 1% Inspiration, The Guardian's Pick Of The Web last week (ending Oct 30, 2010)
The once-great sport of boxing is not what it was. Except for a small pool of loyal fans, and the occasional high-profile bout, such as the upcoming Haye-Harrison contest, the public have lost interest.
Once the domain of heroes and stars, boxing is now almost a fringe sport. But it needn't be. Here is my simple, 4-point plan to revive it.
Before I start I should just declare my own interest. I have a brother-in-law who is a top pro, and I have worked as a ring announcer. Both have given me some insight into the sport, but, really, I am little more than an enthusiastic spectator. Sometimes, however, it takes an outsider to see what needs to be done.
In this article I want to focus on boxing in the UK, but there is one major point that needs addressing on the global level:
1. One Belt For Each Weight Division.
There are too many bodies governing the sport. Five world heavyweight title belts is four too many. The value of a title belt has been diluted almost to oblivion. How does one unify the bodies? That is the seemingly impossible task. Someone with a lot of charisma and a lot of capital is needed, someone who can make each individual body realise that owning a 20 or 30% stake in the world's only boxing body is worth a great deal more than full ownership of something that is depreciating in value as each year passes.
Ali: The Most Famous Man In The World?
2. Get Some Boxing Highlights On Terrestrial TV.
When I grew up in the 1970s boxing was as big a sport as football. Mohammed Ali was the most famous man in the world. Everyone knew him. Everyone knew Sugar Ray Leonard, Marvin Hagler, Henry Cooper, Larry Holmes, Mike Tyson.  In the 1980s dear Frank Bruno was one of the most known faces in the country.
Then in the late part of that decade boxing began to move off terrestrial TV and onto Sky. That's when it started to slide out of the mainstream.
Take Joe Calzaghe. His record makes him the greatest British boxer of all time. Yet he's no household name. My mum and dad wouldn't know him if he walked down the street. Yet they'd recognize any Man Utd player.
Do You Know This Man?
Until David Haye's high-profile fight against Nikolai Valuev, he was not well known outside of sport, despite his obvious star quality. Yet his win against Mormeck in Paris was one of the greatest overseas victories by any British boxer.
The public are not as familiar with boxing's biggest stars as they should be. It's because they don't see them on terrestrial TV.
I'm not denigrating Sky. It's just that I cannot emphasize enough the power of terrestrial TV. I am a stand-up comic and I see it all the time. There are hundreds of comics who have been good for ages, but are unknown, they get a slot on Michael McIntyre's Roadshow and they're famous overnight. They can suddenly sell out an entire tour, just by storming a five-minute slot. Even in this new internet era, terrestrial TV still puts your mug in everybody's living room.
We need to get boxing back onto terrestrial TV again, to increase the profile of the sport and its participants. The problem is how.
Boxers like the pay per view model, as they earn more money out of it. (I happen to think they could earn more through terrestrial TV, by the way. But that's an argument for another day).
How Much Damage Did He Do?
Terrestrial TV, meanwhile, after 'Fraudley' is wary, to say the least, of boxing. It is hard to understate the damage Audley Harrison did to boxing with his stint at the BBC. The BBC were tempted to return the sport to our screens, but they got their fingers burnt so badly burnt by this series of mismatched bouts that they now daren't touch boxing, apart from that brief contract with Amir Khan.
ITV flirted with boxing, but ran out of money and confidence at just the wrong time. The Froch-Taylor World Middleweight Title fight of 2009 was another stunning overseas win for a British fighter. It's one of the best bouts of recent years, with Froch stopping his opponent with just 14 seconds to go. Yet ITV didn't show it until the next day, and then only on ITV 4.
In the short-term, one solution is a highlights show that does for boxing what Match Of The Day does for football. Then, at least, the broadcaster has some control over the quality of the content.
Terrestrial TV will come back to boxing if boxing can find a way of delivering a quality product consistently. Boxers will come back to terrestrial TV if they think they can earn more money out of it than through PPV. We must marry the two.
3. Pit Equally Matched Boxers Against Each Other.
Many promoters seem more concerned with protecting the record of their fighter than they are with putting on a good show. So you get these boring mismatches. They don't do anyone any favours and ultimately erode the public's trust in the sport. Audley Harrison at the BBC is one example. The Klitschko brothers are another, although to be fair to them there has been a shortage of opposition. I've watched some Frank Warren nights at the York Hall and wondered why I bothered coming out.
Promoters need to take bigger risks with their fighters and put on more equally-matched contests. Everyone benefits. The viewing public, the broadcasters – and ultimately the fighters. They'll become better fighters if they're stretched.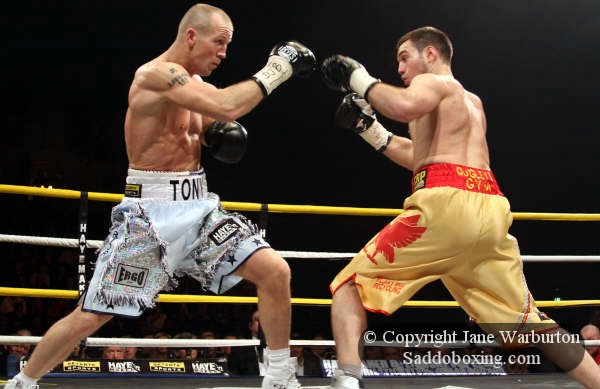 Dodson vs Quigley: The Fight Of 2009

?
Tony Dodson vs Tony Quigley for the British Super Middleweight Title was probably the British bout of 2009. Why? Because they were both brave, they both 'wanted it' desperately and because they were equally matched. It really isn't rocket science.
One way to achieve this, might be for the sport to have a clearer structure to it, with a national and international rankings system, one that is (dream on) agreed on by all the governing bodies. I'm sure with such a system promoters would find it easier to negotiate with each other and we would thus see more fights and better fights.
4. Improve The TV Coverage.
There is a great deal the broadcasters can do to improve the sport. Boxing needs a face, a Harry Carpenter, a charismatic character that people associate with the sport. The closest thing we have at the moment is Steve Bunce.
The Face And Voice Of Boxing
Boxing needs a voice as well. I like Radio 5's Mike Costello, I like John Rawlings, but where is TV's answer to the great American commentator, 'The Colonel' Bob Sheridan? Who is boxing's Alan Green?
Perhaps more urgently, boxing is full of great characters, but many of the pundits are not outspoken. Where is boxing's Geoffrey Boycott? Even if they don't agree with it, people respond to strong opinion. We need more wit, more outspoken opinion and more insight.
Similarly, boxing coverage has not developed in the way that, say, football or cricket has. Look how much imagination has gone into finding new ways to analyse football and cricket: wonderful camerawork, new technologies, supreme statistics. Do the same with boxing. Give us more angles, more stats, find a way of measuring punch power, the calories a boxer has burnt, distance covered, energy expended, measure his body-fat ratio, anything. Give us stats. Give us insight. Give us analysis. Give us opinion.
Let's Get Ready To Rumble ...
Finally, the MCs. I confess I have an agenda here, as I have been one. But the current crop of ring announcers are second-rate. They may as well be announcing trains the way they sound.  And as for their appearance, a couple of them look like they're attending the gala night of a geography teachers' convention. UK boxing needs an MC with a bit of class, a bit of style a bit of panache: a rival to Michael Buffer of 'Let's get ready to rumble' fame. It can't be that hard to find someone, can it?
Dominic Frisby, October 2010